Help us build the Peter Paularinne Family Life Center


the Peter Project


The Peter Project
Peter Paularinne Family Life Center
Check back often to see our progress!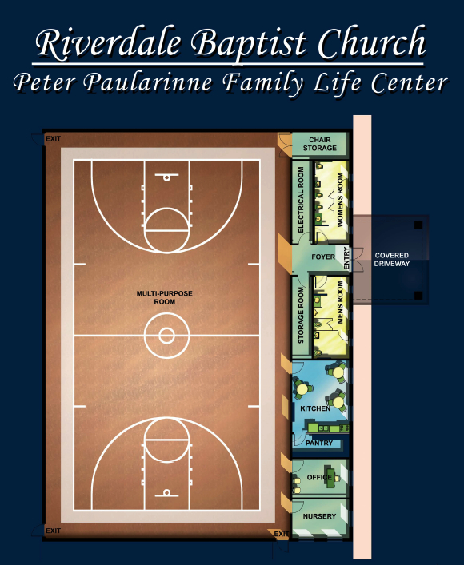 Here are some other pictures of our dream. Click on one to enlarge it.
What is the Peter Project?
Riverdale Baptist Church in Temple Terrace Florida is ready to break ground on the Peter Paularinne Family Life Center, or as we call it "The Peter Project". The Peter Project will be a multi-use building that will feature a sports gymnasium with bleachers, nursery, classrooms, restrooms and on Sundays will even serve as Riverdale's primary sanctuary.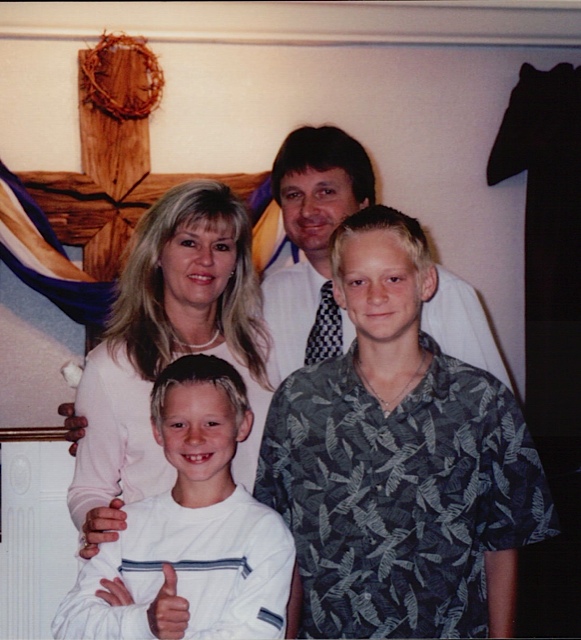 Who Was Peter Paularinne?
The best way to introduce you to Peter is to use the words of those who knew him best:
"Peter was a humble, kind, fun loving, faithful, non-materialistic man of character and integrity. He loved people unconditionally, and I am proud to have been his wife. He loved me and our boys more than life itself. What Peter desired more than anything is that people would come to know Christ in a personal way." - Cathy Paularinne
"My dad is the best dad I could have ever asked for. He loved playing any sport that I wanted to play. He was the nicest person that I've ever known. He always put others first and his main goal in life was to see people come to know the Lord." - Devin Paularinne
"My dad and I had alot of fun together. He even made homework fun! He taught me how to play the drums, and to play golf. My dad was a Godly man. He was everything good." - Austin Paularinne
"Peter represented total selflessness. He valued giving more than getting". - Paul Paularinne (brother)
"It was hard go get him angry. He was very laid back and never lost his cool." - Pertti Paularinne (brother)
"An extremely caring individual who was always very considerate of others". - Pentti Paularinne (brother)
Peter was a member and a deacon at the Riverdale Baptist Church here in Temple Terrace. Peter was always willing to help in any way possible. He assisted with the audio visual ministry at the church. He faithfully taught Sunday School and even taught himself how to play the drums so that he could use his ability in the worship services. Peter often preached in the Sunday morning worship service in my absence. The bottom line is, whatever needed to be done in ministry, Peter was always willing to pitch in and help. The Bible tells us, "Moreover, it is required of a steward that a man be found faithful" and that is exactly what Peter was.
After a lengthy battle with a rare form of cancer, God called Peter home on March 18, 2006.
Four years ago, God put it on my heart to build the Peter Paularinne Family Life Center. First and foremost it will be a place where the work of the Lord will continue to grow. But it also represents everything that Peter stood for: His faith, his family, his church, and helping others. It will be a tool that is used to reach into the lives of our current members through a myriad of ministries. Simultaneously, it will be used to reach out to the Temple Terrace community to show them the love of the Lord Jesus Christ.
Prayerfully consider supporting our efforts to build the Peter Paularinne Family Life center for the glory of the Lord and to honor the life of a great husband, father, brother, son, and passionate follower of Jesus Christ. All proceeds go to the Peter Project. Donations can be made online by clicking the "Donate Now" button or by mailing a check to Riverdale Baptist Church, 8302 Temple Terrace, Hwy. Temple Terrace, Fl. 33637 - please note in the memo Family Life Center.

Please email me with any questions at lburgess0731@yahoo.com or call 813.786.5617.
---
Content Copyright 2022: Riverdale Baptist Church